You've seen them at music festivals (Coachella-style), on little girls' hair at parties, at concerts, even on Harry Styles apparently. As made famous by Lana del Rey, the flower crown is all the rage in wannabe-hipster fashion. Either do-it-yourself with a wire headband, scissors and some fake florals from Michael's Arts & Crafts; or buy the pre-made version at Claire's or Urban Outfitters. Whether you prefer a simple, peace-y style or the showy, huge petals like Lana del Rey (whose got a case of summertime sadness), flower crowns are a hip and cute hair accessory that adds color to any outfit. It also adds that hey-everyone-I'm-fashionable-and-so-hipster-check-me-out dimension to your "hippie/bohemian" look… you know, if you're into that.
Examples below.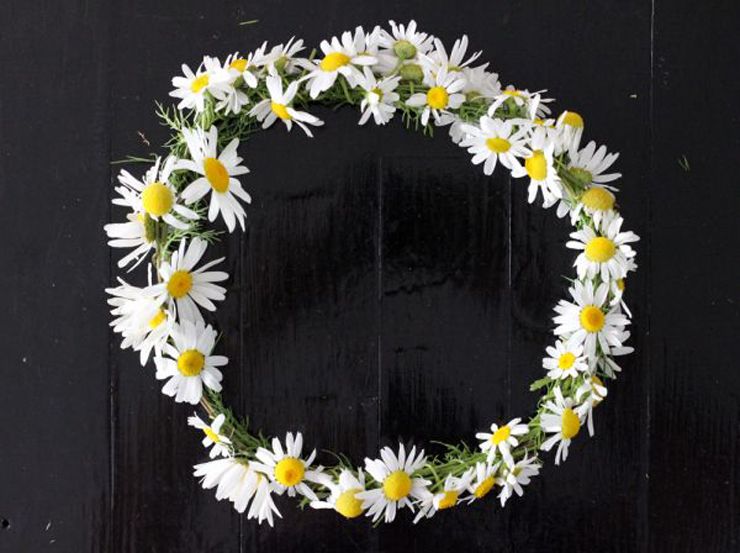 Looks like even celebrities are doing it. English singer Pixie Lott (pictured above) rocked an obnoxiously large yellow arrangement at the 2012 WGSN Global Fashion Awards. All right, all right. But here's the thing: this wasn't Coachella, or EDC, or some kind of bohemian music festival where looking like you DGAF (but really, you do) is okay. This is the fancy-schmancy Global Fashion Awards in London, one of the most fashionable cities in the world.  Lott paired her flashy yellow statement crown with this classic, off-the-shoulder maxi dress, giving her a semi-casual but completely unmatched look:
(I mean, don't get me wrong, she is gorgeous. But the bohemian red-carpet style does not work for her case.)
Even so, other celebrities are taking to the trend! See Vanessa Hudgens, the original music festival-going, young fashion icon who has more than blossomed since her Disney days. The effulgent Natalie Portman was also spotted in a simple white floral crown last August at her wedding to Benjamin Millepied. Elegant, not too flashy, and still added a classic "damsel" look to her modest dress (as opposed to her Black Swan look…now that's something else entirely).  Only Princess Portman could pull it off on her big day.
Whatever style you're into, please wear with caution: and like all things, in moderation. "Hippie style" flower crowns are only as perennial as those stretchy bell-bottom jeans are. Erm, were.
– A